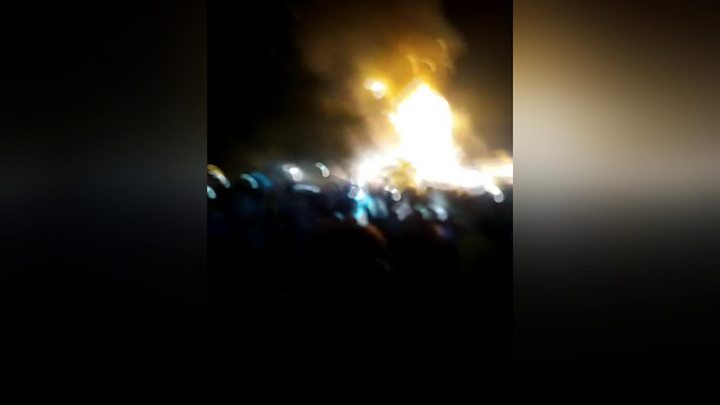 More than 60 people have been killed and 100 hurt after a train ran into a crowd near Amritsar in India's northern Punjab state, police told the BBC.
The victims were standing on the railway tracks watching celebrations for the Hindu festival of Dusshera, eyewitnesses told BBC Punjabi.
They did not hear the train approach as they watched a firecracker-filled effigy of the demon king Ravana burn.
Officials said the priority now was to take the injured to local hospitals.
Footage posted to social media showed the fast-travelling train hitting the crowd.
The incident happened at about 18:30 local time (13:00 GMT), said local journalist Ravinder Singh Robin.
Just moments before, crowds watching the firecrackers show were asked by organisers to move back – towards the railway tracks, reports say.
Some eyewitnesses suggested that victims did not hear the train horn.
The train that hit the crowds was travelling from Jalandhar to Amritsar.
Eyewitness Amar Nath told BBC Punjabi that people were "mauled" by the train.
"I removed the bodies from the tracks… my hands were full of blood."
Local resident Amit Kumar told the BBC: "Every year, people sit on the tracks when festivities take place here" during Dusshera.
Punjab Chief Minister Amarinder Singh described the incident as "absolutely tragic", and wrote in a tweet that local authorities were being "mobilised".
"We will do everything possible to assist the injured," he said, adding: "[I] have directed the district administration to leave no stone unturned to ensure the best possible treatment for them."
He said that victims would be given medical aid for free.
A state of mourning has been declared, with offices and schools in Punjab to be closed on Saturday, Reuters reports.
Prime Minister Narendra Modi described the incident as "heart-wrenching".
There are fears that the death toll will rise further.
Questions being asked
Arvind Chhabra, BBC Punjabi, Chandigarh
Towering effigies of Ravana symbolising evil are burnt with fireworks to mark Dussehra, a major Hindu festival.
Now, questions are being raised how the celebration was allowed just a few metres from the railway tracks.
Effigy-burning is only allowed when different departments, including fire safety officials, grant permission.
The state chief minister has ordered an inquiry to ascertain whether permission was granted – and by whom.
Train accidents are fairly common in India, where much of the railway equipment is out of date, although numbers have declined in recent years.
What is the Dusshera festival about?
Celebrates the triumph of the Hindu god Rama over the 10-headed demon king Ravana
Marks the victory of good over evil
In large parts of India it is celebrated with Ramlila – a dramatic folk re-enactment of the 10-day battle
Staged annually – often over 10 or more successive nights
Festival culminates with devotees burning effigies of Ravana which are lit with firecrackers in open grounds
The burning takes place around sunset as Ravana is said to have died when there was "neither sunlight nor dark"
In 2005, Unesco recognised the tradition of Ramlila as a "Masterpiece of the Oral and Intangible Heritage of Humanity"